Delivery & Packaging
Delivery cost:
Orders are sent from either the North or South Island depending on what you purchase. Your first freight quote is only an estimate based ex Nelson. You may not be charged this initial estimate, we will correct the charges based on your location and advise you of any significant increases to the final charges.
To minimise your freight charges we always try to send your items from within Island.
Within Island Delivery – Contract Ticket $9.90 up to 2kg,
Standard Within Ticket - $12.80 up to 9kg, each extra 1kg or part thereof is + $1.60
Interisland Delivery - Contract Ticket $11.50 up to 2kg
Standard Between Ticket - $17.55 for orders up to 4kg, $28.00 up to 9kg, each extra 1kg or part thereof is + $3.00
One Sector Delivery (Christchurch and West Coast SI) - $10.00 per 15kg
Local Delivery - $5.30 up to 25kg (Local Town $6.80 up to 25kg)
Rural Delivery - $4.55 extra, per polybin
Freight charges will be adjusted to reflect current FAF charges by our freight providers.
Ordering tips: freight is charged in 4kg increments, so ordering close to 4kg maximises your freight tickets (allowing some room for ice).
To avoid the packaging charges ($10.00) detailed below order over $100 and this fee will be waived.
Solander sources fresh fish from many different fishing ports. This gives us the advantage of only selecting the freshest fish which has just landed. Additionally if weather has stopped fishing in one part of country we can move our order to another. For this reason your freight may be adjusted up or down depending on which island we finally source the product from. You will be notified of any adjustments by email, when we receive your order.
Credit card payments:
When you place an order you are given an estimated total to pay and your bank allocates funds on your credit card to meet that transaction. These funds are merely held by your bank and are not passed to us at this stage. When we have packed and weighed your order the authorised amount will be replaced with the final charge as per our invoice and the funds will then be transferred to us (usually the day before the delivery). If a transaction is not completed for any reason then the allocated funds will reverse on your credit card after 7 days.
Packed weights & pricing:
All fish in the sea are not made equal. We always try our hardest to select fish as close to the listed pack weights and to what you have ordered. However, this is not always possible. Loin and fillet sizes always vary depending on the size of fish we have caught. Shellfish and other seafood are also not uniform in weight or size. Our listed prices are often based on the average size. Once we have prepared your order we will adjust your final price up or down depending on what is packed.
Just as all fish in the sea are not made equal, not all operating systems and those operating them are made equal either and if by some mistake on our behalf we have inadvertently put in the wrong price for any of our products, then we are sure you will understand that we reserve the right to correct the price and inform you of such correction prior to delivering the product. If you are happy with the corrected price and then we would be more than happy to continue with delivery; however if you are unhappy with our corrected price then we apologise but we will not be bound to deliver at an incorrect price.
Packaging:
Solander uses 100% recyclable polystyrene or "Airpop" boxes, produced by a local Company with a Zero Waste Policy.
Every order is packed by hand in these insulated boxes with special slow thawing gel icepacks to ensure your package travels safely and well chilled (examples as below).
To find out where your closest recycling depot is please visit: www.hmp.co.nz
To cover some of this cost, orders under $100.00 will incur a packaging fee of $10.00.
All prices include GST.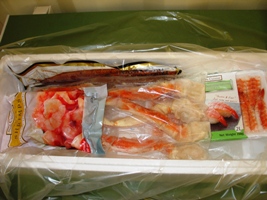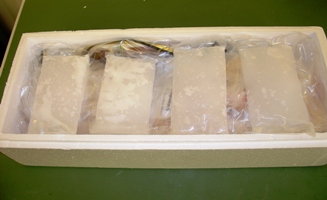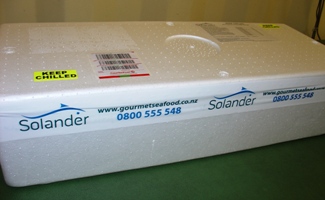 What is a Thermabag?
For that added security of keeping your Gourmet Seafood chilled or frozen, particularly in the warmer months you can opt to have your order packed in a Thermabag inside the polybin with ice and an extra $12.50 will be added to your order.
Rural Delivery
We will add an extra $4.55 for orders being sent to a rural delivery address.
---
Delivery schedule:
Fresh Game Fish, White Fish, Fresh Salmon & Frozen Products:
Orders must be placed by 2pm for next day delivery (pending catch, supply and availability).
All other products:
Orders must be placed by: 10am for next day delivery*.
If you would like delivery on a Saturday please enquire as to if this is an option for your area. Additional charges will apply.
Products stating Tuesday or Friday delivery - we usually need orders in 2-3days prior to delivery date so we have enough time to source from one of our suppliers. For example, order Tuesday for Friday delivery and vice versa.
Please Note: Although we do our best to pack all orders out on the same day as placed due to high demand from time to time it may not always be possible to have your order packed out on the same day. Your order will be packed out as soon as possible.
Deliveries:
Usual delivery times are between 7am and 5pm. We use non signature tickets however, if you require a signature ticket please advise in your order notes that you require a signature ticket. In the instance that you are not at the delivery address, we take all care, but no responsibility for missing or spoiled items. If you have any further special delivery requirements, please contact us on 0800 555 548.
To enable you to track your delivery, once dispatched you will receive an e-mail with your tracking number and a link to the Courierpost Tracking Website. If you have any delivery issues please call us on 0800 555 548 before 3pm on the day of delivery.
Fresh deliveries are packed with enough ice to maintain product temperature up until 5pm on the delivery day. As soon as you receive your fish you should remove it from the carton and place it in the chiller. Fish is meant to be eaten fresh, and we recommend you eat it that day, or within 2 days of receiving it.

We take great care in packing all our frozens with plenty of ice with the intention they remain frozen. However all frozen deliveries should be checked on arrival. We do not guarantee frozen orders will remain frozen during delivery. In the event they arrive thawed in transit they should not be re-frozen and should be used within 3 days. All our frozens have been freshly frozen.

While we always try our hardest to get the products you are after, regretfully with the exposed NZ coastline, fishing vessels are not always able to operate. Some species are also seasonal - please check when ordering, however if there is a problem with your order, we will get in touch with you.

If you are not happy with the quality of your fish on arrival, please phone us immediately on the day of delivery. If you were at home and received it within the delivery period we will provide you with a credit.
Live deliveries:
All live orders leave us alive, we try our hardest to ensure they are received alive on arrival, however we cannot guarantee this. Some species are better travellers than others. Shipments of paddle crabs especially and sometimes crayfish are likely to incur some mortalities during transit.
To ensure products arrive live it is important to keep their temperature between about 4 and 12 degrees during transit which requires a specific amount of ice. On arrival check for any mortalities, if there is then check they are still cold to touch and smelling of the sea. If they are then they are fine to consume, transfer them to the fridge and consume preferably that night.
Live items can be kept alive by replacing the ice with the same amount and keeping the poly in a cool dark place. If you do not want to receive your live order alive and prefer it arrives chilled please let us know and we will ensure extra ice is added accordingly.
Frozen Deliveries:
We take great care in packing all our frozens with plenty of ice, with the intention they do remain frozen. However, all frozen deliveries should be checked on arrival. We do not guarantee frozen orders will remain frozen during delivery. In the event they arrive thawed in transit, they should not be re - frozen, and should be used within 3 days. All our frozen products, have been freshly frozen.
Customer Care & Product Handling:
Your fish should arrive in perfect condition - chilled and with no strong or unpleasant odours. There should be no gaping developing in the flesh. For tuna, the flesh colour should be bright red.

Note: If the product arrives warm, notify Solander immediately. Do not consume the fish or even taste it.

Please ensure that someone can be at the delivery address to receive the order on arrival. As soon as you receive your delivery, open the carton immediately and place the vacuum pack loins in the chiller. If the vacuum has been broken or there is excess blood in the pack, remove from the pack, dry off with a paper towel and wrap in plastic wrap before placing in the chiller.
Handling the fish:
Before using the fish, wash lightly with cold water and pat dry with clean paper towels. Any unused fish should be wrapped in plastic wrap and returned to the chiller.

Note: Tuna undergoes oxidation of pigmented protein when exposed to air; so exposed flesh will change from red to a brown colour in a matter of days. At which stage cooking is the preferred method, as it will have lost its presentation for sashimi.
Cutting fish:
You need very sharp knives for cutting fish. Cut along the grain in a motion downward and toward you. To slice most fish, you only need to use a dragging kind of motion (avoid sawing the fish), letting the weight of your knife do most of the work.
---
Copyright 2011 Solander Maritime Limited
All rights reserved. No part of the Solander website, including any frames, can be reproduced or transmitted without the express written permission of Solander Maritime Limited. The Solander logo and logotype are registered trademarks.
Disclaimer
Solander does not warrant the accuracy, adequacy, reliability or completeness of any information contained within this website or materials and information supplied to you by us as a result of using this website and disclaim all liability for errors or omissions which may be contained in such information and materials.
Exclusion of Liability
Solander shall in no event be liable for any damages, losses or expenses including without limitation, direct, indirect, special or consequential damages, or economic loss arising from or in connection with the use of this website or reliance on any of the contents of this website or any of the material or information produced as a result of the use of this website.
Save
Save
Save